U.S. Craftmaster® Hybrid Electric Heat Pump Water Heaters are the most cost effective, energy-efficient water heaters to help save money on your utility bills. They work by absorbing heat from the ambient air and transferring that heat to the water inside the tank.
The Hybrid Electric Heat Pump can reduce water heating costs up to 66% and provide payback in 2-3 years. Plus it qualifies for many state and local utility rebates. With annual savings of $419 or more, saving money is a breeze.
Features
10-Year Limited Tank and Parkt Warranty, 1-Year Limited Warranty Labor*
ENERGY STAR® qualified for many state and local utility rebates
Energy Factor (EF) ratings, in Hybrid Mode, 2.75 for 50-gallon, 2.74 for 66-gallon, and 2.72 for 80-gallon
Annual operating cost for 80-gallon in Hybrid Mode as low as $192, yielding up to $419 annual saving cost compared to a conventional electric model
Super quiet operation — 51 dBA versus competitive models
SmartPort ready for connectivity to home management and utility Smart Grid applications
91-gallon First Hour Delivery for 80-gallon in Hybrid Mode meets Uniform Plumbing Code requirements for 6 bedroom/3.5 bath homes
Multiple operating modes allow maximum efficiency and performance
Long-lasting upper and lower backup heating elements
Heavy-duty anode protexts against tank corrosion
Durable, tamper-resistant brass drain valve
CSA certified and ASME rated T&P relief valve for safety
*For complete information, consult written warranty.
Electronic User Interface
User-friendly, easy to read eye-level display
Easy select operating mode: Efficiency, Hybrid, Electric, Vacation
Display communicates mode, set point, and service messages when applicable
Vacation mode programmable up to 99 days
Operating Modes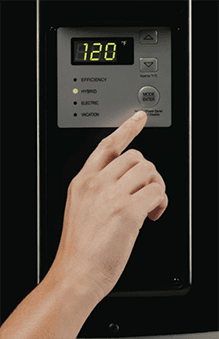 Efficiency Mode

Utilizes the heat pump for all water heating; automatically reverts to heating elements if ambient air or incoming water temperatures are outside optimal operating range for heat pump.

Hybrid Mode

Utilizes the heat pump and heating elements to optimize efficiency and performance without sacrificing hot water delivery

Electric Mode

Standard electric water heater operation

Vacation Mode

Maintains tank temperature at 60°F during vacation or extended absence; programmable user setting — up to 99 days, to reduce operating costs and provide freeze protection
Model HPE2K80HD045V also available